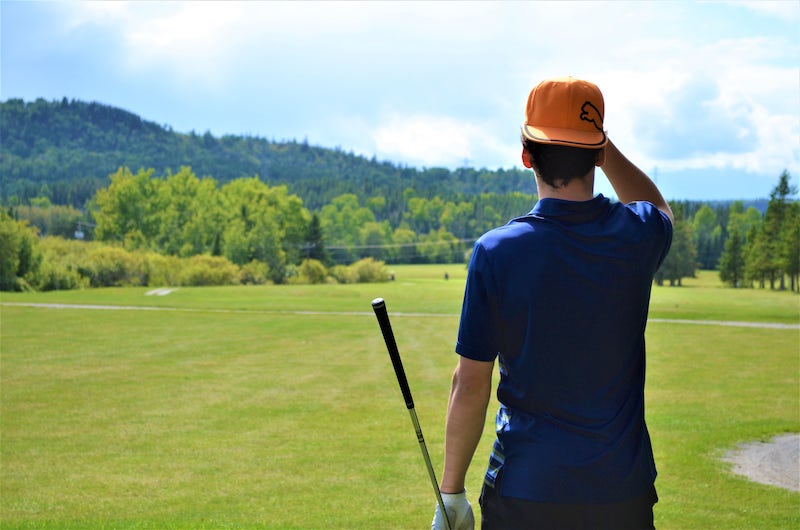 Address: Golf Course Road, Nipigon
Phone: 1-807-887-2006
The North Shore Golf Course is located just off the Trans Canada Highway #11-17 between Red Rock and Nipigon, on Golf Course Road. Situated between beautiful mountains, this nine-hole golf course is the ideal place to get away and enjoy the spectacular view and a great game of golf.
The North Shore Golf Club features 4 sets of tees for different skill levels, measuring 6500 yards from the black championship tees. The layout consists of three par 3's, three par 4's, and three par 5's adding up to a par 36.
The History
The North Shore Golf Club was built in the spring of 1960 on the site of a dairy farm operated by the Gust Ruoho family of Nipigon.
An initial board of directors purchased the property and began constructing the course layout. The club was incorporated on June 6, 1961. Inauguaral directors were President – Spence Craigie, Vice Presidents – Larry Dunville and Harold Jones, Secretary – Henry White, Treasurer – Cliff Drysdale, Directors – Bert Douglas, Bruce Ward, Gordon Dunville, Lloyd Stansell and Rob Rae. They had nothing but the highest prasise for Mr. Ruoho and the many considerations he gave them.
Emil and Paul Stokaluk, well known "Port Arthur" professionals, designed the course complete with "sand" greens. The course was updated with grass greens after only a couple of years and golf was off and running with Julian Stokaluk as head professional.
In 1994-95, the course was given a major upgrade/makeover, that saw the replacing of 2 holes, added yardage, drainage, elevated tees and bent grass greens. The new architect was John Watson Golf Design who made the many dramatic changes. Local forest companies and many businesses contributed extensively to supplement funding from the Ministry of Northern Development and Mines.